On Top of the World in Antigua, Guatemala
Project Scope: An Eco-Resort consisting of 4 buildings, a main building and 3 casitas, situated on a 100-acre, mountain-top avocado farm site
Project Timeframe: Estimated completion December 2013
Building Materials: Local rock, on-site adobe, brick, site-harvested and sustainable wood, plaster, stucco, and CHENG Countertop Pro-Formula
Pro-Formula Colors: Amber, Saddle, Brick, Tahoe, and Charcoal
Owners / Developers: Gregory and Blanca Free
Architect: Craig Henritzy
Project Location: Antigua, Guatemala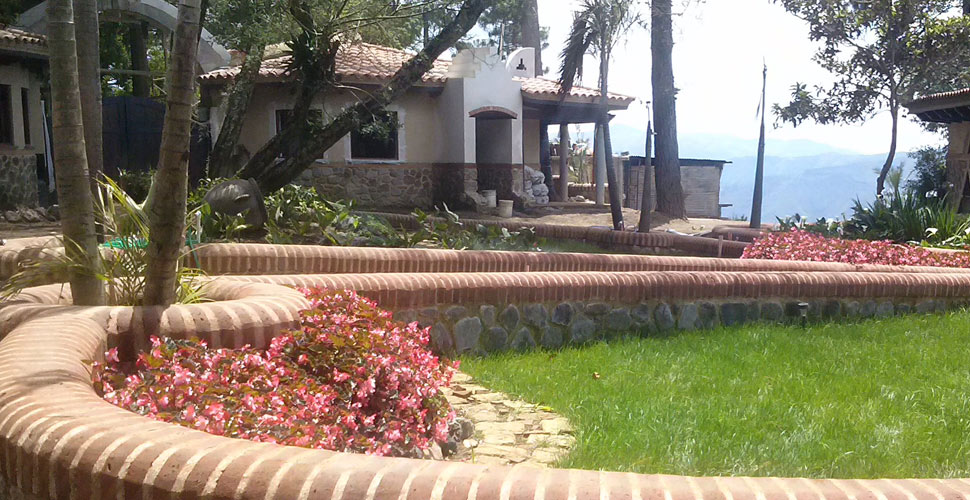 When Gregory Free, a Berkeley, CA-based hearing instrument specialist, and his wife Blanca first bought a 100-acre avocado farm in her homeland of Guatemala in 2006, they didn't fully envision the scale of the eco-resort project that they now have underway and nearing completion after almost 7 years. One of the very first students of a CHENG countertop workshop, Gregory has been a long-time customer of the CHENG concrete product line and has thoroughly studied Fu-Tung Cheng's books—all have been tools in preparing him for this project-of-a-lifetime.
To help them create a design vision for this mountain-top retreat and farm, Gregory and Blanca enlisted the help of Craig Henritzy, an architect, sustainable pioneer and longtime friend. Craig's studio, Indigenous2, keenly focuses on using the ancient principles and architecture of native peoples into a sustainable design intended for the future. Craig's expertise and cultural approach to the Mayan/Spanish history was the ideal match for the compound, or El Campanario De Panchoy meaning "the bell tower above the valley of the lake.
"The property is located high above the city of Antigua, designated a World Heritage Site and famous for its well-preserved architecture and beautiful churches mostly influenced by the Spanish Baroque colonial style. Although completely new construction including the use of CHENG mix products for decorative details, the four-structure compound consists of a main building and three casitas deeply rooted in its location's history and culture. It uniquely features building methods and local materials like harvested wood from the property, adobe, brick and found ceramic artifacts used by the indigenous Mayan people.
Gregory and Blanca's dream to build a fully sustainable, authentically off-the-grid compound is becoming a reality with features like re-used, local materials, solar-powered electricity, a water recapture and filtering system, and a PV generator system. The revitalized avocado farm, or finca, of 4,000 trees that surrounds the compound is fully operating and now produces an "honest harvest" as Gregory describes it, making this dream project that much sweeter.
What guided the architectural direction?
GREGORY: We certainly could have ignored the Mayan aspect and just used colonial styles, which in Antigua is virtually a requirement. Instead, with the help of Craig, it was much more intriguing to incorporate Mayan designs and concepts, providing a link to the land's history. We ultimately used these principles to reflect our personal interest in an off-grid, sustainable architecture, which was demanded anyway by the project's isolated location. We want to share with our future guests the methods of applying solar and sustainable water systems, hoping these concepts would inspire foreign visitors as well as Guatemalans to look at their projects and infrastructure through a different historical perspective.
What is the goal or vision for this project?
GREGORY: We had the idea of building an eco-resort and in following our architect's concept that the building design should explore the use of indigenous principles, we had to ask ourselves: What is the project's locale and its history telling us: how is it informing us about native building materials and practices and culture? And, how do we share this rich story with our future guests? Of course, being located in Guatemala, it's obvious to create a link to the land and connection to the culture.
Can you share the story behind the name of the property and home?
GREGORY: Thanks for asking! "El Campanario de Panchoy" is the name for the resort and "finca" (avocado farm), which translates as "Bell Tower over the Panchoy Valley." A belfry, or bell tower, is located at the top of churches—Antigua is famous for its churches and architecture—and is also the name of the smaller tower used over a typical Antiguan kitchen. Of course, this is a very Spanish colonial name.
We added "de Panchoy" which is a Mayan Kaqchikel word that has been used for a thousand years that means, "valley of the lake" where Antigua is located. So, we have essentially married the historical aspects of the conquering Spanish with the previous history of people native to this area.
Your project is full of historical and cultural references and symbolism. How did the main building's architecture become inspired by a hawk?
GREGORY: We found many Mayan ceramics and obsidian knives on the property. The evidence of obsidian with no trace of European metals meant this site pre-dated Spanish contact. This inspired Craig to name the main house and meeting lodge WaterHawk, based on an important Mayan narrative history. It seemed to fit the house because we had reconstructed it from an existing rain cistern and were still figuring out the design for the water capture system. The hawk's winged form became the inspiration for the upturned roofs to facilitate water capture and the architectural reference to the profile of its head created the striking building entry—it completes the visual connection to the name.
We have speculated that the mountain site may have been a stop-over spiritual center for Mayans traveling from Kaminaljuyu, a Mayan city that goes back thousands of years now buried under Guatemala City, to the valley of Panchoy people. We were already well underway with the WaterHawk concept when we found a ceramic of a hawk's head while digging out one the cisterns…it was confirmation that the name was the right choice and, more importantly, that the ancestors were okay with us being there. Read about WaterHawk by architect Craig Henritzy
Can you describe the materials you've chosen for the home?
GREGORY: In keeping with our mission to use sustainable materials, particularly those with a strong, cultural connection, we have created the home with local rock, brick, site-harvested wood, sustainable wood choices from other parts of Guatemala. We have also used plasters and stuccos that the Mayan descendant builders are masters at as well as on-site earth adobe on many wall structures where it was convenient.
How did you first become familiar with CHENG Concrete?
GREGORY: I took one of the very first concrete countertop workshops ever held by CHENG. I learned that I too, could make concrete beautiful with unlimited and imaginative results yet concrete work is delicate and very fickle.
We believe in the mission and direction of Fu-Tung Cheng's design principles and his attention to quality materials. We also know his books and classes are time-tested. Experimenting is extensively done by the CHENG team so we aren't put in vulnerable situations when working in such a remote location. We can count on the consistency of the colors and achieving exactly what we expected.
How was concrete used in the home?
GREGORY: CHENG products have been instrumental in carrying out the concepts and cultural symbolism throughout the architecture. For instance, in three of the newly created guest houses we named after Jaguars—the native predatory animal found in the nearby rain forests—elements such as claws and cat-tail looking designs were made out of CHENG's colored mixes. Lots of "Amber" was used on the project along with "Saddle," "Brick," and the rare, but essential blue "Tahoe."
We used CHENG Concrete's mix components to strategically create windowsills since they are durable and will save on long-term maintenance issues. We also used it to create countertops and other decorative details since features like sloped surfaces for drain-boards and rainwater runoff could easily be created with colored concrete.
With very sophisticated formwork, we were able to employ CHENG's products to create the visual components we intended, otherwise they couldn't have been constructed and the cultural references wouldn't be as complete.
How long have you been working concrete? What has been your experience?
GREGORY: Over 10 years—I started using concrete when I was working with Craig on the construction of a house in Napa. Craig's architecture background and familiarity with materials like Rastra and concrete became my introduction to Fu-Tung and his work with concrete and that's when I invested in taking his workshop. Since then, I've made office display units, countertops for my home and a rental, and now windowsills and detailed, decorative components.
What has made this project successful thus far?
GREGORY: We had to mix our own cement and aggregates to create our own concrete mix. We have this science down now. Also, we have a dedicated mason and his helper just doing the concrete forms. The Mayan craftsmen and our on-site architect, Emellio, are very good at making forms. We have done maybe 70-80 forms in Guatemala!
What has been the most valuable lesson in creating architectural concrete details?
GREGORY: Actually we are still challenged with creating better designs, trying to go beyond making rectangular shapes. There are many concrete design tips that I've learned from CHENG, but I would suggest following the procedures rigorously and challenging your skills with it in careful steps to achieve more complicated creative designs.
What has been the most fun?
GREGORY: Of course it is cracking open the concrete form and seeing the colors and smooth surfaces of finished concrete—I always get excited about this!
What about your project excites you the most?
GREGORY: The next project…