Round Tabletop and Base
ONE: TABLE BASE FORMING
Video Overview
See how the form for this outdoor table base is created. The base will have 3/4-inch thick walls and be 27 inches tall. The mold is complicated because of the curve of the base. A CAD file is sent to a foam fabricator who makes the mold with a CNC machine and coats it in epoxy resin
The original design needed to support a 2″ concrete tabletop with an integrated lazy susan in the center.
The original table base was wet-cast and needed to be anchored to the floor.
In the following project, the table mold has been re-used with a fiber-reinforced concrete mix, and it doesn't need to support such a massive tabletop, so the finished table base weighs a lot less and is considerably easier to form up.
In the original pour, the form would have been bolted together and cast as one piece.
For the fiber-reinforced version, each half is sprayed separately, and then the two halves of the form are screwed together and the structural backing mix is packed in by hand.
Step 2 – Foam and Epoxy Mold
Each half of the mold was modeled in the computer, and from a CAD file, a CNC router cut the foam to the right shape.
The foam was then finished with an epoxy and sanded by hand.
The outside of the foam is boxed together with 3/4″ plywood to provide structure and help the form register when the two halves are put together.
Next: Table Base Spraying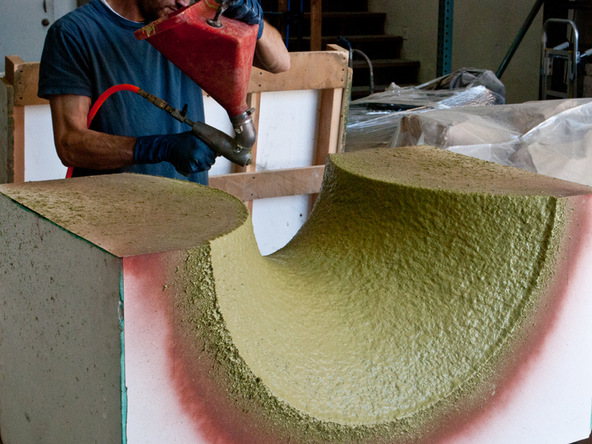 Each half of the form is initially cast separately to allow efficient placement of the fiber reinforced concrete mix before the forms  are seamed together.