Rhomba Concrete Bench
ONE: FORMING
Use high quality materials when building this form to insure the form can be reused for multiple castings. The form constructed for this how-to guide was used to cast more than twenty Rhomba Bench Cubes. Take precautions to avoid scratching or chipping the form pieces when demolding the cubes to maintain a high quality finish on each casting.
Step 1 – Construct the Form
The form is built from 3/4″ melamine-coated particle board.
The constructed form is essentially a box with top "caps" on top of the walls. Three pieces inside that, create the recessed ledge for the wooden bench top. See the

GFRC Rhomba Bench How-to-Drawings

 for the complete demensions and cut list.
Step 2 – Glue Up the Knockouts
The knockouts are made from 3/4″ melamine and faced with laminate to hide the seams and provide a waterproof surface.
The knockout is made in 3 parts. Each part is screwed into the form walls. This way each part of the knockout can be removed separately.
Install the knockout at the bottom of the form by pre-drilling, from the outside, through the form walls and screwing in each section.
Next: Casting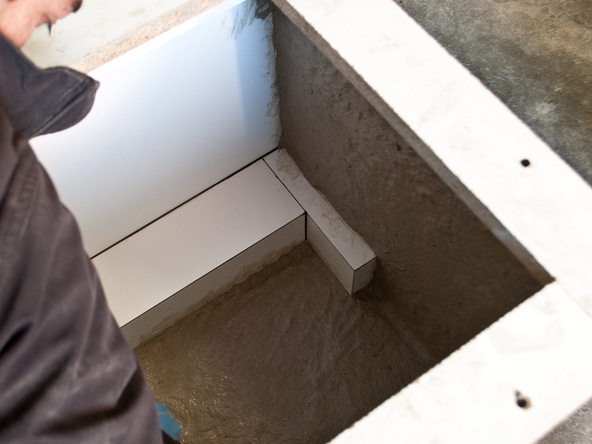 We prefer to hand place the fiber reinforced concrete mixture onto horizontal surfaces and allow a few minutes for the recently placed…