Greenbrae Chair
THREE: PLACE BACKING MIX
If the mix seems too wet, let it sit for a few minutes, it will stiffen up a bit and then try packing it into the form.
Work on the horizontal surfaces first, then begin building up the verticals.
On the vertical surfaces, lay the material on very thinly, about 1/8″. Any thicker and it may not stay up.
Step 2 – Place Fiberglass Scrim
Fiberglass scrim appears at 1:21 in this video.
Fiberglass Scrim is placed between the lay-ups of backing mix for additional reinforcement.
Place two seperate layers of fiberglass scrim in all the angled seams of the chair.
When the piece is packed to full thickness, use a trowel to smooth the back side flat.
Cover with plastic and allow to cure for at least 1 day.
Previous: Spraying Face Mix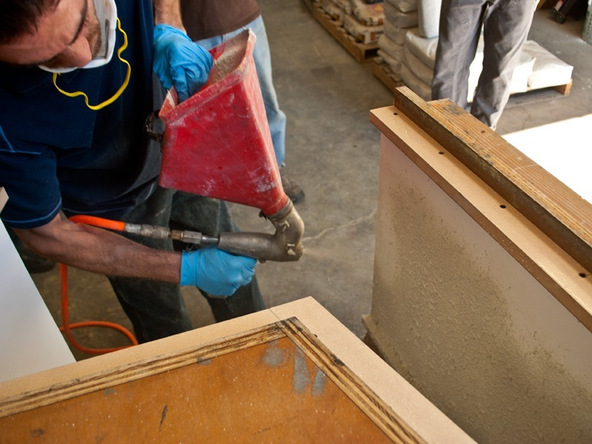 Spray 1/8″ of face mix onto the form surface using either CHENG's DFRC or Surecrete's Xtreme precast system. The consistency of these mixes are ideal for this project.
Next: Demolding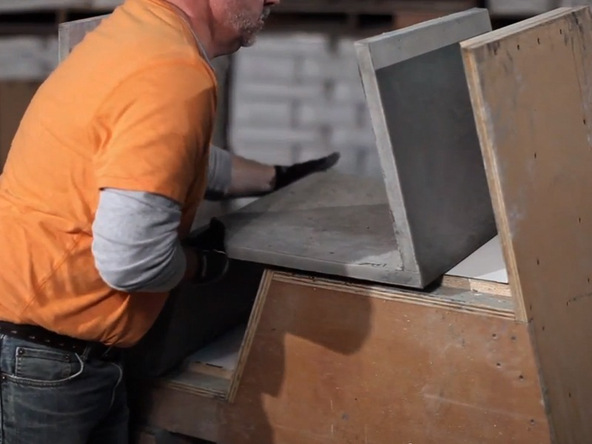 Carefully remove the chair by disassembling the form and taking care to not damage either the form or the chair in the process. Congratulations you did it!