Bent Concrete Side Table
THREE: CAST RUBBER MOLD
Polyurethane mold rubber behaves like glue and will stick to most materials, so make sure that all surfaces are protected with Pol-Ease Mold Release or plastic drop cloths.
Work Surface:

 Make sure the table / work surface is level. If the table is not level, the rubber will settle to one side and be uneven.

Pour from one place and let it flow outwards. Pouring from multiple places will create more air bubbles.
Step 2 – Fill Form Completely
Use a spatula to move the rubber to the edges of the form.

The rubber will start to set up relatively quickly, in about 10 minutes, so be efficient when filling the form. It needs to cure at room temperature and will be ready to demold the next day. If you try to demold too quickly, the rubber can change shape because it hasn't fully cured.
Step 3 – Knock Down Air Bubbles
When the rubber is at the full height, you can spray the back side with form release to knock down any bubbles on the surface.
Polytek 75-60 should cure within 4-6 hours. Waiting until the next morning to demold will ensure the rubber is well cured.
Remove the form walls first. Then slice the silicone seal with a razor blade if necessary. Loosen the rubber by pulling on it, and gently pull it off of the positive.
Previous: Mix Rubber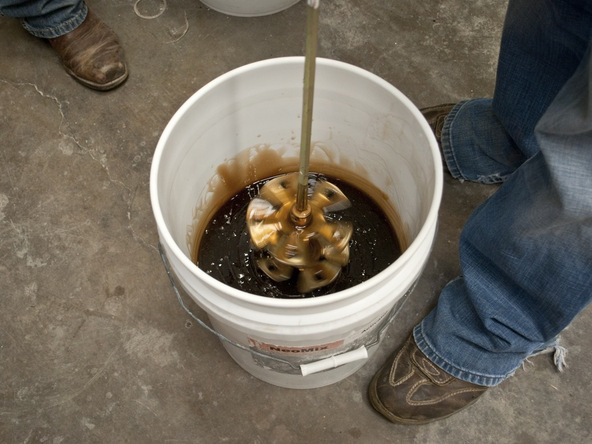 Polytek 75-60 Polyurethane Mold Rubber provided ideal flexibility for this project.  Work quickly when mixing polyurethane mold rubber to avoid…
Next: Casting Concrete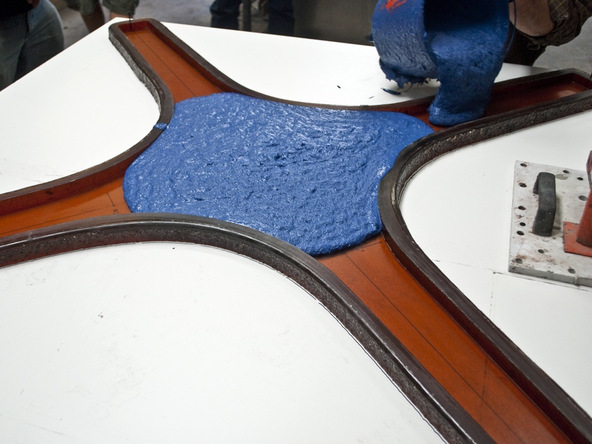 To successfully cast this table you need to bend the concrete when it's at the optimal "plastic" state. If you attempt to bend the concrete too early and…