Simulated Stone Concrete Countertops
TWO: VEINING METHOD
Surecrete's Veining Compound adds the right amount of color where you need it, while baking soda is used to add texture to the countertop surface.
What You'll Need
Chip Brush
Spray Bottle With Water
Surecrete Xtreme Series Pre-Cast Mix
Surecrete Pre-Cast Modifier
Surecrete Color Packs – Desert Sand (2)
Baking Soda
Surecrete Xtreme Series Veining Compound
Step 1 – Veining Technique
Baking Soda: 

Creates voids and pinholes in the surface. It acts as an accelerator.

Veining Compound:

 Absorbs water from the mix and creates a colored line in the concrete. Spritzing with water activates cement and makes the vein more solid.

Lay out the concrete 3/8″ thick.

Throw veining compound in the edge.

Use a chip brush to press it in.
Sprinkle baking soda on the surface to create voids.

Continue laying out concrete 3/8″ thick and adding veining compound around the edges to create veins.
Step 3 – Veins on Vertical Surfaces
Using the same technique, veins can be created on vertical surfaces or around the sink opening as in this example.
Here you can see how the darker veining material sticks to the leading edge of the wet concrete mix.
Step 5 – Continue Filling the Form
Spread the concrete out 3/8″ thick, adding veins as you go, until the entire surface is covered.
Pour 1-1/4″ of casting blend on top of the face coat.

Pack it up to the edges by hand and trowel the top surface flush with the form walls, leaving a 2″-thick perimeter.
Previous: Forming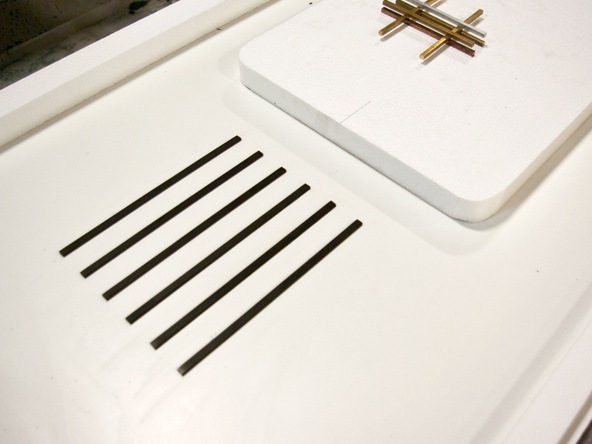 We completed this form under 30 minutes using CHENG's Concrete Countertop Forms and Wall Liners along with spray adhesive and double sided tape.
Next: Staining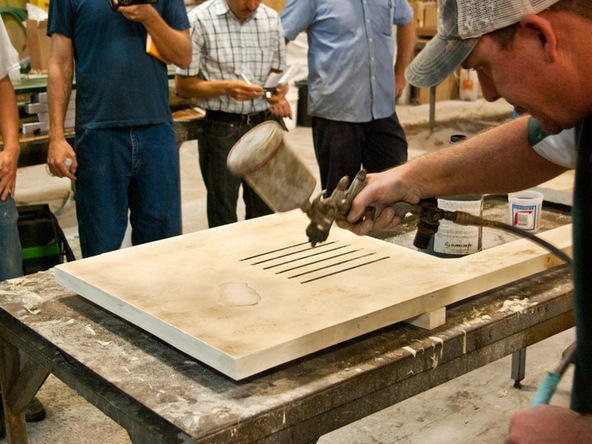 Apply water-based stains with an HVLP sprayer to add random color variations and simulate the natural appearance of stone.