Simulated Stone Concrete Countertops
FOUR: SEALING WITH XS-PC12
Surecrete XS-PC12 is a hybrid solvent-based polyurea coating for concrete surfaces (countertops, cement-based terrazzo, GFRC).
Low VOC (400 g/l)
Color Enhancing
High Gloss Wear Surface
Residential and Commercial Grade Abrasion Resistance
Heat Resistant to over 300°F (149°C)
Resists Household Chemicals and Culinary Items
Food Safe upon Curing
60 Minute Pot-Life
60-90°F Application Temperature
Approximately 100 sq. ft. coverage per Quart
What You'll Need
6″ Paint Roller
6″ Foam Roller Cover
Quart Mixing Container
Cordless Drill
Paint Mixer Attachment
Surecrete XS-PC12 Sealer
Step 1 – Mix and Apply Sealer
Combine 3 parts A : 1 part B (3:1).

Stir for 30 seconds.

Pour a generous amount of sealer on the surface.

Utilizing a high-density foam roller, begin pushing the sealer in a side-to-side pattern across the surface.

Do not allow it to puddle.

Push excess sealer off the surface. Immediately begin back-rolling the surface to create a tight, thin finish.
Some bubbles may occur, and can be touched up for several minutes. If bubbles form as the surface is being touched up, leave it alone. Bubbles can be sanded out in the subsequent step.
The first coat is tack-free in about 2 hours. After 8 hours it can be sanded with 320 grit sand paper by hand, or with an orbital sander.

Clean the sanded surface with compressed air and a lint-free rag. Do not use solvent wipes on fresh sealer. The surface is now ready for a second coat.

The second coat can be applied in the same way as the first.

24 hours after the 2nd coat, the finish is ready for light-duty service. At 48 hours it reaches a full cure.

After 24 hours, the finish responds well to buffing with heavy buffing compound and a wool buffer on a variable-speed grinder. The same buffing can remove marring or scratching that may appear over time.
Step 3 – For a Highly Polished Surface:
24 hours after the 2nd coat, inspect the surface for debris in the finish. If debris is present, start with the least aggressive grit sand paper that will remove the impurities.

Wet sand the surface by hand or with an orbital sander, from 600, 1000, 2000 grit.

Utilizing a variable-speed grinder with a wool buffing pad, buff the surface with a heavy grit compound.

Carefully inspect the surface for scratches that may have been left from wet sanding. If you see scratches, wet sand again with 1000, 2000 grit.

Continue buffing with medium grit compound. Finish buffing with fine grit compound.

A little buffing compound goes a long way. The wool pad must be kept clean throughout the process. A highly polished surface is not recommended for exterior applications, as it will show all signs of exterior elements (precipitation, pollen, leaves, etc.).
Step 4 – Cleanup and Disposal
Cleanup:

 Before XS-PC12 dries, remove over-spray or spills with a solvent such as xylene.

Disposal:

 Contact your local government household hazardous waste coordinator for information on disposal of unused product.
Previous: Staining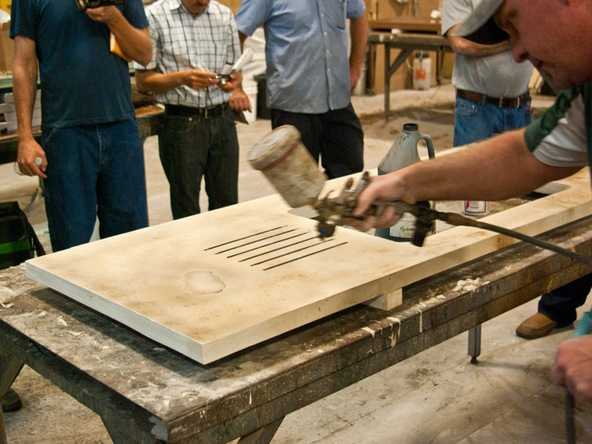 Apply water-based stains with an HVLP sprayer to add random color variations and simulate the natural appearance of stone.