Pressed Concrete Countertops
THREE: STRUCTURAL BACKER
A 5/8″ layer of backer mix is now placed on top of the pressed face mix. The backer mix provides necessary structure to the fragmented face mix.
What You'll Need
Rubber Gloves
Trowel
Surecrete Xtreme Series PreCast Mix
Basalt Fiber
Surecrete PreCast Modifier
Step 1 – Build up Thickness
Lay in the backer mix until the total thickness of the countertop is at least 1″.
Spread the backer mix around until the form is full.
Build up the edges to about 2″ thick.
After the walls are built up, trowel them flat to the top edge of the form.
Previous: Press Method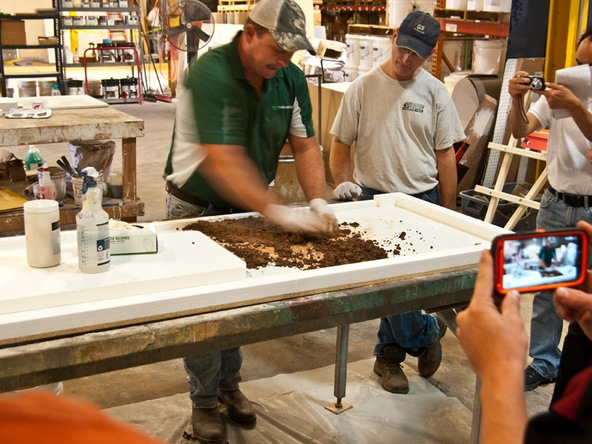 Press approximately 3/8″ layer of crumbled mix onto the bottom and side walls of the countertop mold before placement of the backing mix.
Next: Demolding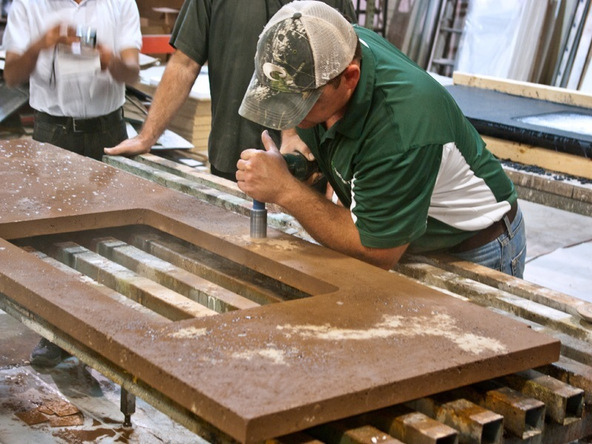 Roll the casting over onto foam strips before lifting the base off of the countertop to reveal a randomly pitted surface. Ready to slurry?