Pressed Concrete Countertops
FOUR: DEMOLDING AND FINISHING
Roll the casting over onto foam strips before lifting the base off of the countertop to reveal a randomly pitted surface. We take extra caution to protect the edges of our countertop from chipping or spalling at this point.
What You'll Need
Rubber Gloves
Alpha Diamond Hand Polishing Pads
Alpha Wet Core Drill Bit
Step 1 – Remove Side Walls
Remove the foam side walls by prying them away from the form.
Clean up any sharp edges with a coarse diamond hand sanding pad.
Step 2 – Flip the Countertop Over
Flip the countertop over, placing it on scrap pieces of styrofoam.
Remove the baseboard by pulling up on it.
Step 3 – Cut Hole for Plumbing Penetration
The plumbing penetration can be cut with a diamond drill core bit.
Previous: Structural Backer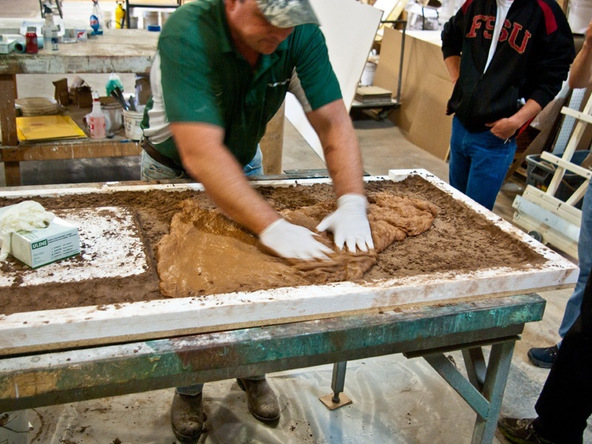 A 5/8″ layer of backer mix is now placed on top of the pressed face mix. The backer mix provides necessary structure to the fragmented face mix.
Next: Slurry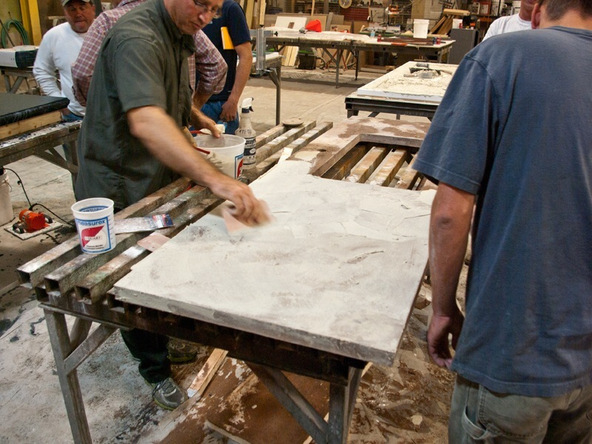 Mix a contrasting-colored slurry with water to a toothpaste consistency. Spread the slurry around the entire surface, pressing it into the larger voids.