Pressed Concrete Countertops
TWO: PRESS METHOD
Press approximately 3/8″ layer of crumbled mix onto the bottom and side walls of the countertop mold before placement of the backing mix.
What You'll Need
Spray Bottle with Water
Rubber Gloves
Surecrete Xtreme Series Veining Compound
Step 1 – Crumble Mix into Mold
Crumble the mix into the mold.
Smooth it around loosely, making sure the thickness is about 3/8″ – 1/2″.
Step 2 – Cover the Surface
Keep crumbling the mix into the mold and packing it together loosely until the bottom surface is covered.
Begin building up the sides.
Step 3 – Veining Compound
Put the veining compound into the mold.
Spritz it with water for a more mottled effect.
Crumble the mix over the veining compound and continue filling the form.
Make sure to fill in the corners and press the material to the form walls.
After the mix is about 1/2″ thick all around, it's time for the backer mix.
Previous: Mixing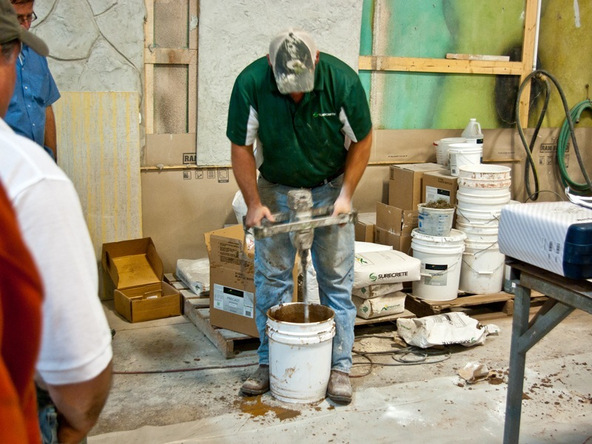 Mix Surecrete's Face Mix and Packing Additive to create a stiff mix that can be pressed into the mold. The mix should crumble in your hands.
Next: Structural Backer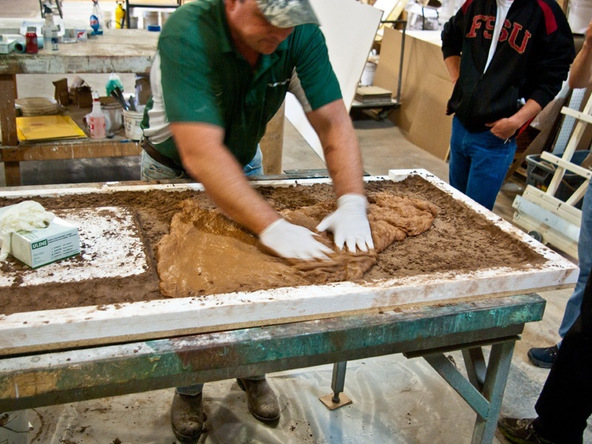 A 5/8″ layer of backer mix is now placed on top of the pressed face mix. The backer mix provides necessary structure to the fragmented face mix.