Quadra Fire Pit
TWO: CASTING
Step 1 – Spray the Face Coat
The face coat can be sprayed with a GFRC sprayer using the Surecrete Xtreme Series Precast Mix.
Supporting the form on saw horses and rotating it as you spray will make it easier to spray the larger surfaces.
Spray the coats on thin and build them up as they begin to dry. If you spray too much on at once, it will slump.
Any vibration can also cause the concrete to slump down, creating a runny surface.
After the first coat is completely sprayed, use a chip brush to gently force the concrete into the edges of the form.
A fibrous backing blend will give the piece more strength than just the face mix or casting mix alone.
Press the mix into the form by hand, one pad at a time. Spread the concrete out as you lay it up, or it will slump down.
Continue packing the form until the walls are about 3/4″ thick.
Trowel the top edge flat to minimize grinding later.
Leave some of the concrete hanging over the edge to help keep the walls from slumping.
Let the concrete cure for at least 24 hours, and then move on to the next step: Demolding.
Previous: Forming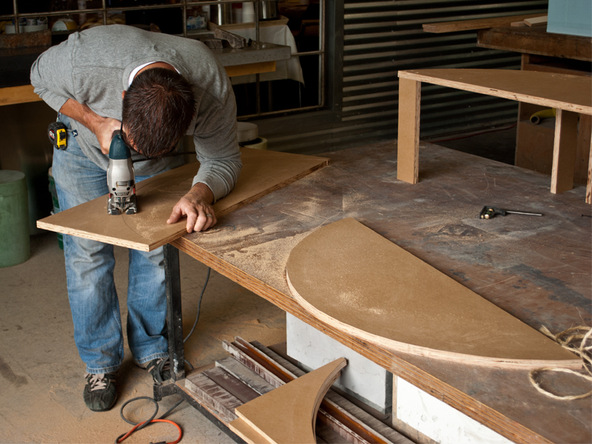 Even experienced carpenters will find this challenging. The projects "high" difficulty rating was awarded for the complexity of the curved inner form.
Next: Demolding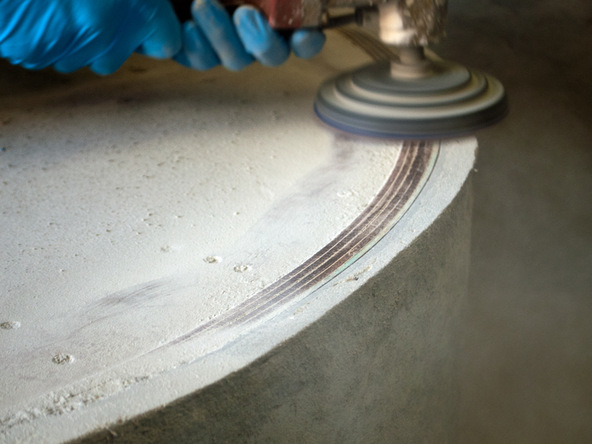 If you are careful when removing the form to avoid chipping, denting, or scratching it, you should be able to cast many times with this single form.