Fabric Formed Concrete Fire Table
THREE: SPRAYING AND BACKING
A face coat of D-FRC Casting Blend is sprayed into the form, and then a backer mix is laid up by hand, at 1-1/2″ thick, to create a strong yet relatively lightweight fire table.
Step 1 – Mixing D-FRC Casting Blend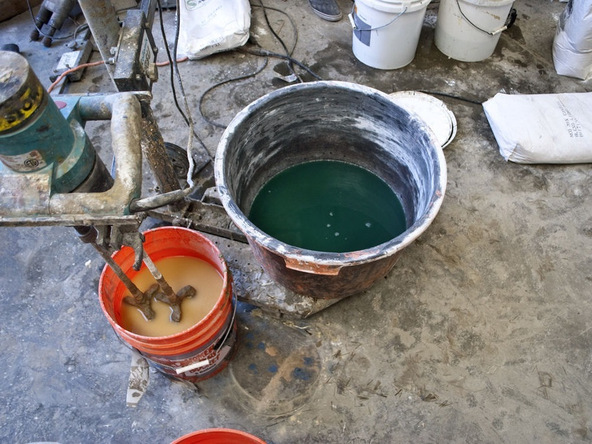 For full instructions on spraying, check out the 

Spraying GFRC Guide

.

Begin spraying the face coat in the edges.

Be sure to blow out any loose material before spraying over it. This can trap unmixed sand and will result in a poor finish. Practice spraying before attempting a large project like this.
Continue spraying the base and then the walls, working in a circular motion, until a uniform layer about 1/8″ thick covers the inside of the form.
Take care spraying the vertical surfaces, especially on a tall form like this. Spraying the concrete on too thick will cause it to sag, which will be visible in the finished piece.
Step 3 – Cutting the Casting Blend with Basalt Fiber to Create the Structural Backer
Basalt Fiber can be added to the remaining Casting Blend to create fibrous mix that will be laid up over the face coat.
After the face coat has dried slightly, the structural backer can be applied.

Pack the backer mix into the form by hand. Build up the thickness of the walls to 1″.

Smooth the backer mix over the edges of the form walls to get it to hang.

Be careful not to press the backer through the face coat, and work gradually on the vertical surfaces to limit slumping.
Do not spray or cover the 1″ thick disc knockout. Build up a uniform thickness around the knockout, and smooth the top so the edge of the knockout is still visible.
Let the vacuum run for a few hours until the concrete has cured enough that it doesn't change shape when the vacuum is turned off.
Previous: Vacuum Hookup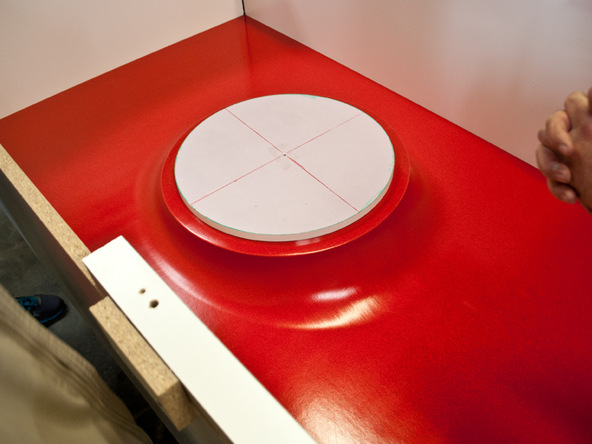 A shop vac is attached to the form base during casting to provide suction that pulls the vinyl fabric into graceful curves around the rigid foam risers.
Next: Demolding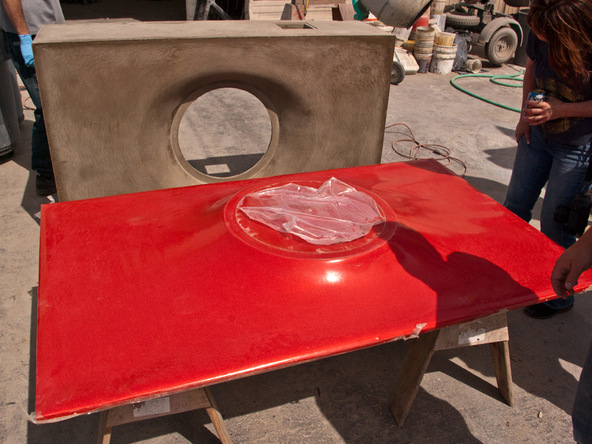 After the piece has cured for 12-24 hours, it can be removed from the formwork. Before demolding, the project is ground flat on the bottom edge.