Pressed Concrete Countertops
SIX: SEALING
XS327 Polyurethane Sealer by Surecrete is one of the most exciting new sealers to hit the market in a while and we were excited to try it out. You can find the most up to date application method on the product detail page.
What You'll Need
6″ Paint Roller
6″ Foam Roller Cover
Quart Mixing Container
Paint Mixer Attachment
Cordless Drill
Surecrete XS-327 Sealer
Refer to the Guide for full instructions on applying Surecrete XS-327 Sealer.
Mix 3 Parts A : 2 Parts B.
Mix 3 Parts A : 2 Parts B.
Mix for 3 minutes using a paddle attachment on a cordless drill.
Step 2 – Pour and Roll Sealer On
Pour the sealer on the countertop.

Roll it on using a foam roller.
Keep rolling until the sealer is uniformly distributed.
Push the foam off the edge.
Continue rolling with light pressure.
Switch to a dry roller if necessary (to soak up extra sealer).
Keep rolling until any small bubbles in the surface are gone. Keep moisture in the roller and use less pressure until you're happy with the surface.
A full cure is achieved between 5-7 days at 75 F.
Apply additional coats if necessary.
Previous: Slurry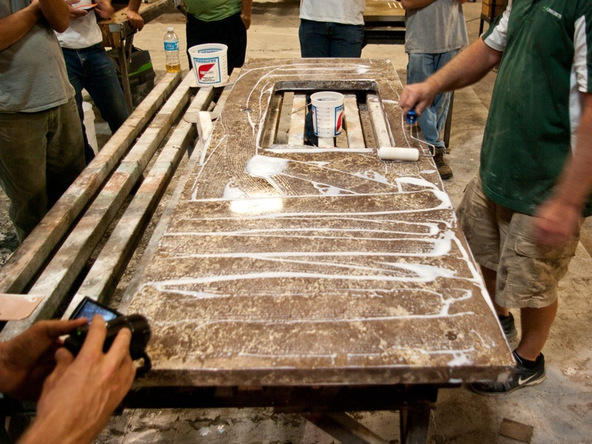 Mix a contrasting-colored slurry with water to a toothpaste consistency. Spread the slurry around the entire surface, pressing it into the larger voids.