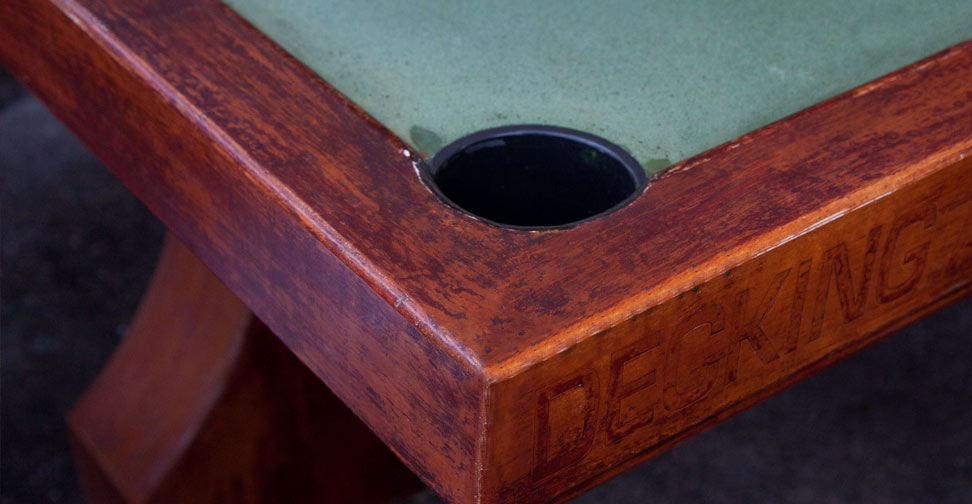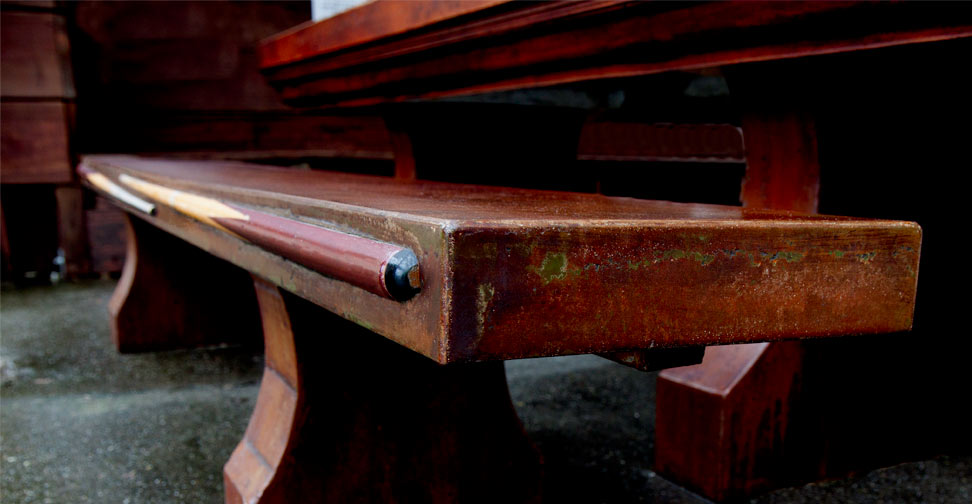 Taking a Cue
Taking his cue from the business that commissioned the table, Jefferson, president of Decking Around, Inc. of Napa, California, created an outdoor picnic table that serves not only as a gathering place for customers, but also as a conversation piece. People who see the table marvel that, though it looks like a conventional billiard table it is, in fact, made entirely of concrete.
Project Objective + Client Feedback
The owners of a billiard establishment wanted to turn their patio area into a beer garden where customers could enjoy their favorite food and drink outdoors. The outdoor concrete table created by Decking Around exactly fit the bill. "The owners of Billcos Billiards were really surprised and, now that it has been in service, they really like the easy maintenance and function of the table," says Jefferson.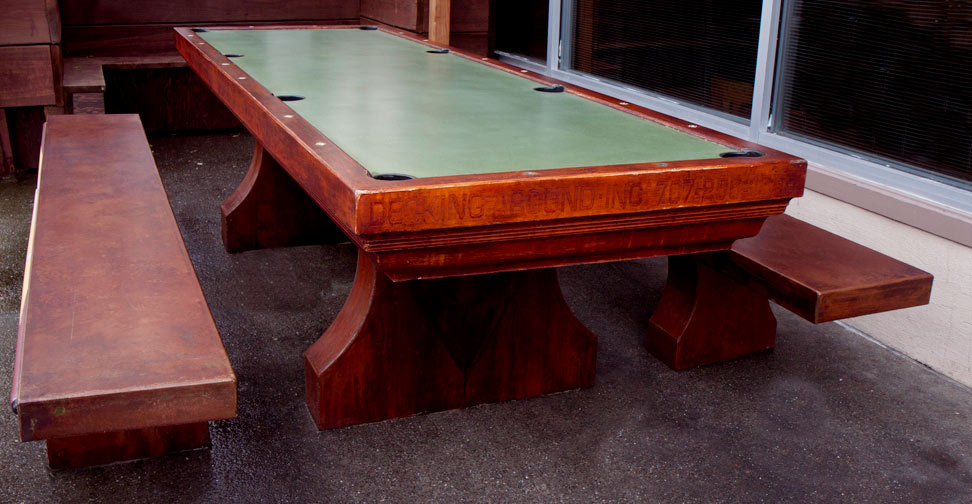 Design + Expertise
Jefferson has been in decorative concrete and related fields for 29 years. Decking Around, specializing in concrete overlays and faux finishes, was founded in 1995. Jefferson, along with his two employees, Jason Lund and Mike Phillips, has recently been experimenting with the design flexibility of Fiber Reinforced Concrete (FRC) under the tutelage of CHENG Concrete's instructors as well as independent instructor Tommy T. Cook. For the billiard table, Jefferson used both conventional Glass Fiber Reinforced Concrete (GFRC) and NeoMix Decorative Fiber Reinforced Concrete (D-FRC). "I have been watching and learning about using concrete as a medium to build all kinds of cool stuff. Now that there is GFRC and D-FRC, we can build pieces that are really light weight and have a high PSI strength, which makes it even more desirable," says Jefferson.
One of the most inventive elements of the table proved to be also one of the most challenging to build. The pool pockets are actually pint glass holders, created with black PVC pipe. The challenge with casting the pockets was ensuring the form behind the pipe knock-outs was filled with concrete. Rather than hand placement of the material, Jefferson decided to use a spray method. "By spraying the D-FRC, we were able to get into really tight areas which made it [the table] easier to build," says Jefferson.
For special touches, Jefferson inlayed real pool cues in the benches and actual dice as pocket markers in the table. A closer look reveals the company's name "carved" into the end of the concrete billiard table. The high level of detail in the table's finishes makes it difficult to believe it's a concrete replica of a real billiard table. The green "felt" and the "wood" table frame and benches are remarkably realistic—one of the judges remarked that "he fooled us!"
2011 Best Commercial, CHENG Concrete Exchange Design Challenge
Recognized in the industry as the pinnacle of exceptional design and craftsmanship, the CHENG Concrete Exchange Design Challenge showcases talent and technical skill of the very best in creative concrete.
About Decking Around Inc
Decking Around provides quality commercial and residential concrete restoration services in California, specializing in everything from concrete swimming pool decks and driveways to patios, floors, and walkways. Based in Napa, Decking Around is also expert in epoxy flooring, deck waterproofing and faux finishing, including flagstone patterns, slate, rocks and more.
Decking Around now creates concrete counter tops and GFRC furniture for outdoor living, such as chairs, tables, and barbecues in a large range of colors and designs.
Contact: David Jefferson
Decking Around, Inc.
1030 Second Ave
Napa, CA 94558-3915
(707) 255-1555
nbcourts@pacbell.net
www.deckingaroundinc.com