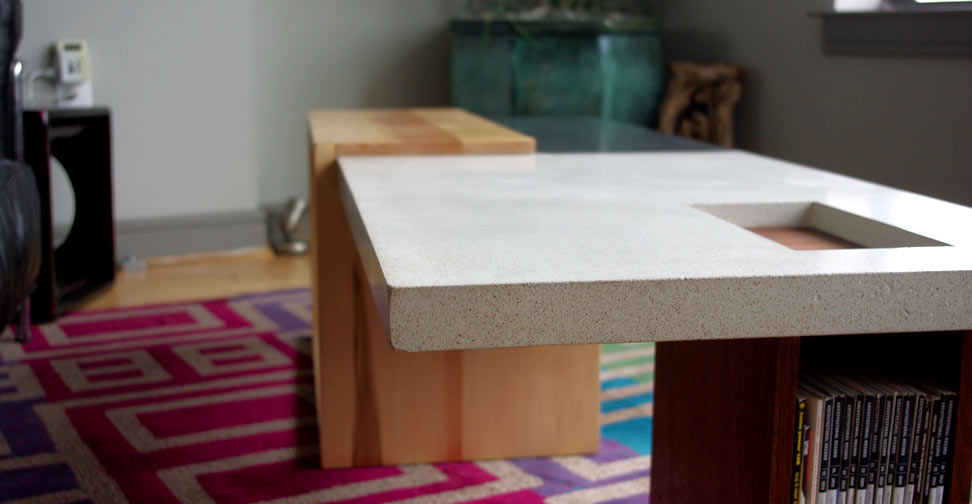 Café Au Lait
John Newbold's Coffee and Cream was awarded Best Furniture in the 2011 CHENG Concrete Circle of Distinction Design Challenge by judges Fu-Tung Cheng, designer (Cheng Design, Cheng Products, CHENG Concrete), Robert Brunner, industrial designer (Ammunition Group, Fuego), and Dan Gregory, editor and author (Houseplans.com).
Project Objective + Client Feedback
The clients are designers and were looking for a living room centerpiece that would simultaneously serve as a visual focal point and enhance social interactions. They were also interested in using the coffee table as a vehicle to explore innovative concrete techniques. The clients had functional requirements of the table as well, needing a space for a wireless keyboard and mouse and additional, integrated storage space.
The clients felt that their 60" x 20" finished table is both exquisitely beautiful and highly functional. "The clients were extremely pleased at our ability to creatively and successfully find solutions to each objective of the project," says Newbold.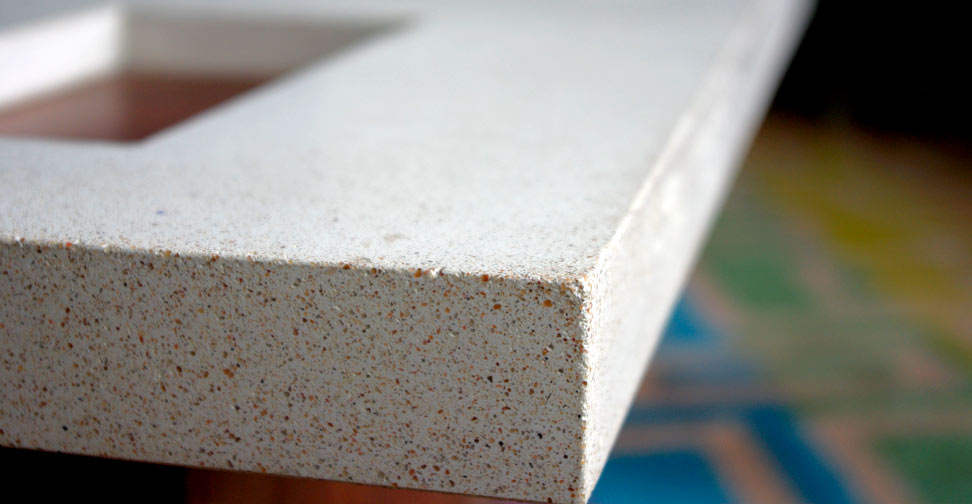 Design + Expertise
The project was unique for Newbold because it gave him the opportunity to play with multiple tones in one monolithic piece of concrete and to integrate it with other materials. For the main surface, he used a new, multi-tone glass fiber reinforced concrete (GFRC) technique that he recently developed. The two contrasting concrete colors, black and white, highlight the size and shape of the individual components and perfectly balance with the table's wood elements.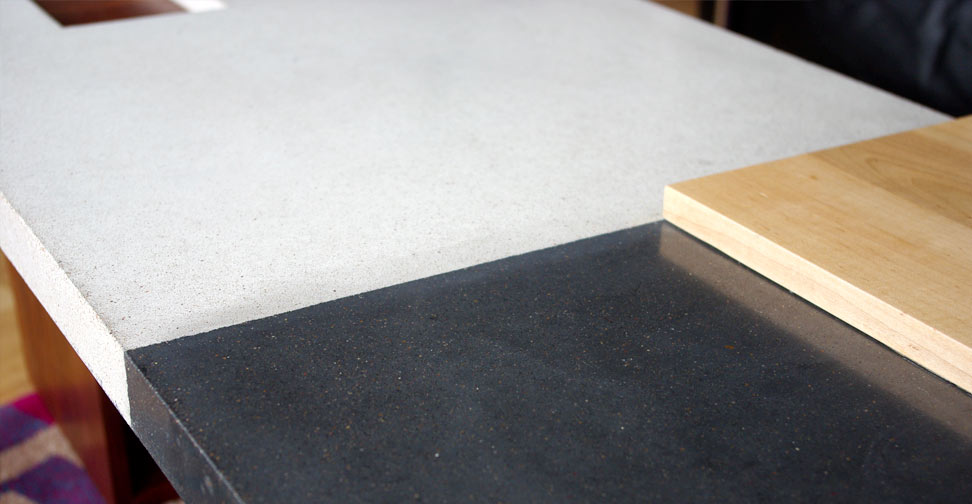 Newbold's biggest challenge was using solid maple and walnut where many builders would have used plywood. He strongly felt that the beauty and weight of solid hardwood were necessary to articulate the uniqueness of the table. The wood panels were created by joining narrow boards together, making the table more structurally sound than using one solid piece of wood—a single piece of wood tends to warp, which creates additional strain on the joints and can pull them apart. The two different colors of wood contrast with the concrete: the maple is on the "coffee" or black end of the table and the walnut is on the "cream" or white end.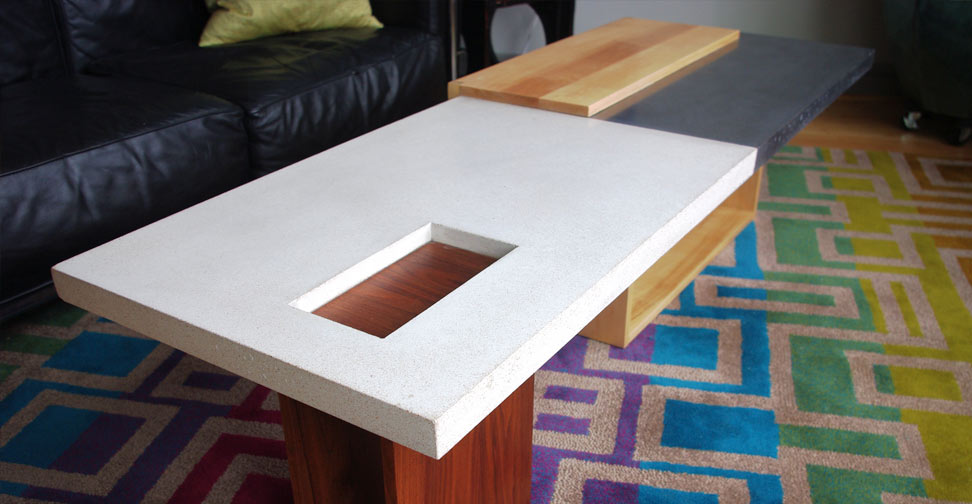 Using concrete in conjunction with the wood was a given for Newbold. "Concrete is an incredibly versatile medium to work with and provides the opportunity for special attention and unique qualities in each element of the design. Each material in this design played vital aesthetic and functional roles. Using multiple materials also creates the opportunity for unique details to manifest themselves," says Newbold.
The judges had high praise for Newbold's concrete coffee table, declaring it "nicely executed; a study in material and form" and "a beautiful and subtle interplay of color and texture."
2011 Best Furniture, CHENG Concrete Exchange Design Challenge
Recognized in the industry as the pinnacle of exceptional design and craftsmanship, the CHENG Concrete Exchange Design Challenge showcases talent and technical skill of the very best in creative concrete.
About Newbold Stone
Newbold Stone specializes in crafting unique, designer-grade, custom concrete creations including countertops, cast sinks, fireplaces and furniture. Powered by the creative energies of an experienced designer and engineer, Newbold Stone is dedicated to excellence in the design and installation of decorative concrete.
Originally founded in Southern California in 2001, Newbold Stone relocated to Austin, Texas in Fall 2006 to serve the greater central Texas area. The vibrant growth and creativity of the Austin area serves as the ideal backdrop for the creation and enjoyment of designer-grade concrete, where residents and designers alike seek unique media to express their design visions.
Newbold Stone consistently delivers premier concrete installations.
Contact: John Newbold
Newbold Stone
139 E St. Elmo Rd #103
Austin, TX 78704
(512) 646-7405
john@newboldstone.com
www.newboldstone.com