How to Wax Concrete Countertops
Learn how to wax concrete countertops and protect your concrete counter with the finest countertop wax available. This non-toxic, durable wax is food-safe and specially formulated to improve the stain-resistance of the CHENG Concrete Countertop Sealer while providing a renewable shine whenever your countertop needs a little "pick-me-up."
What You'll Need
Orbital Polisher
100% Cotton Cloths
Applying CHENG Concrete Countertop Wax
Use a 100% cotton towel or an applicator pad that won't scratch.
Apply by hand or with an orbital buffer.
Dampen the pad with water, wring it out, and apply the wax.
Wax small areas at a time with tight circular motions.
The wax dries extremely hard and needs to be buffed off while still soft.
Apply up to 3 coats on a new countertop.
Re-wax every few months or more for high traffic areas.
Before and After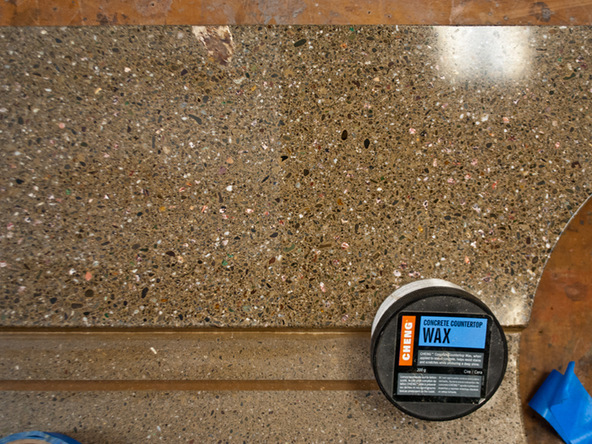 Before application of CHENG Concrete Countertop Wax on the left, after on the right.
This countertop has been sealed with CHENG Sealer and is ready for a coat of wax.
The wax deepens the color of the concrete and will work to refresh the countertop and protect the sealer.