How to Cast an Ammonite into Concrete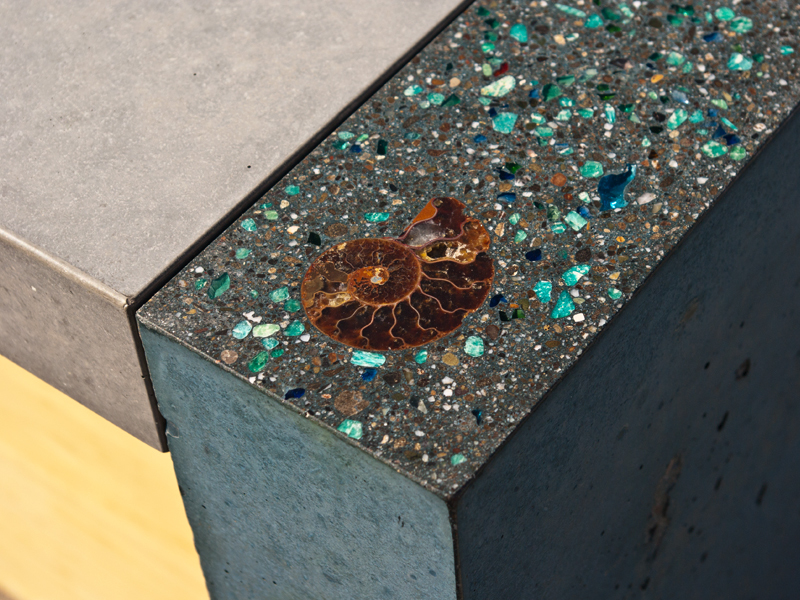 We love casting high grade ammonite fossils into concrete for a lot of reason but above all we think they're beautiful. Evidence of the golden mean can be found all around us and we think there's no better way to accentuate the linear proportions of a well designed concrete countertop than with one of mother natures own perfect designs.
What You'll Need
100% Door and Window Silicone Caulk
Caulking Gun
Step 1 – Select an Ammonite Fossil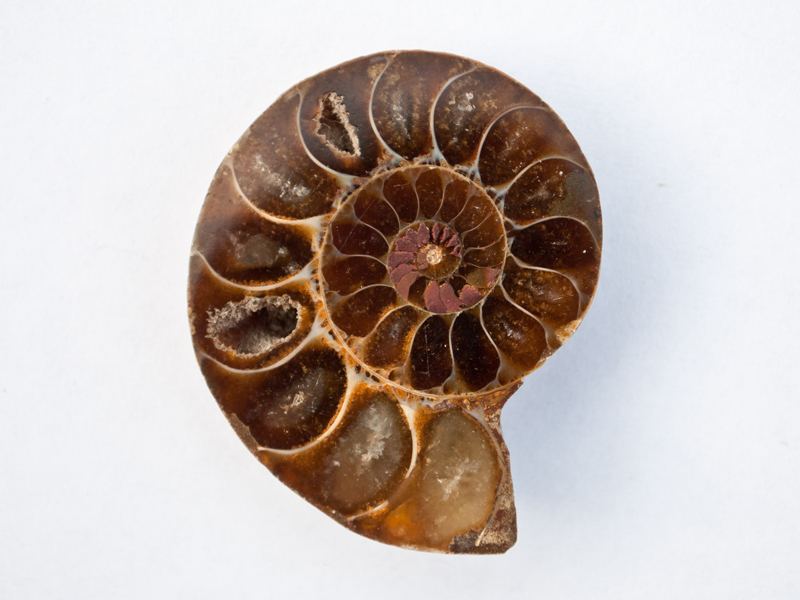 Ammonites come in a range of sizes, colors, and qualities.  Look for high grade AA (or better) they will maintain their beauty in even the harshest settings. Stay away from using lower grade soft or pitted fossils since they'll be difficult to polish and won't look very good when finished.
Only use ammonites that are perfectly flat. The entire surface must be glued to the concrete form face to prevent concrete slurry from flowing between the form and fossil and effectively prying the ammonite away from the surface of your casting.
Step 2 – Adhere the Ammonite to Formwork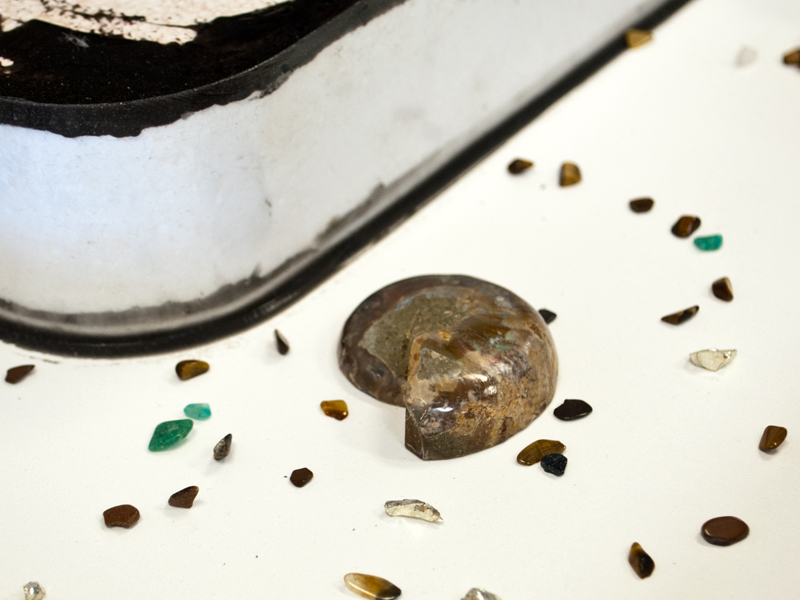 For ammonites smaller than 2″ diameter we recommend using 3M Super 77 Spray Adhesive to attach the fossil to the formwork. Super 77 is strong enough to hold the fossils in-place during throughout the heavy vibration that will occur during the casting process.  Lower quality adhesives simply don't have the hold strength that 3M's product does.
For ammonites larger than 2″ diameter we recommend using silicone sealant to adhere the ammonite to your formwork. It is important to let the silicone sealant cure overnight before casting concrete. "Butter" the flat face of the ammonite fossil and firmly press it on to the form surface. Use a cotton swab to clean up all the excess sealant that has squished out from under the fossil.
Step 3 – Fill Voids with Acrylic Slurry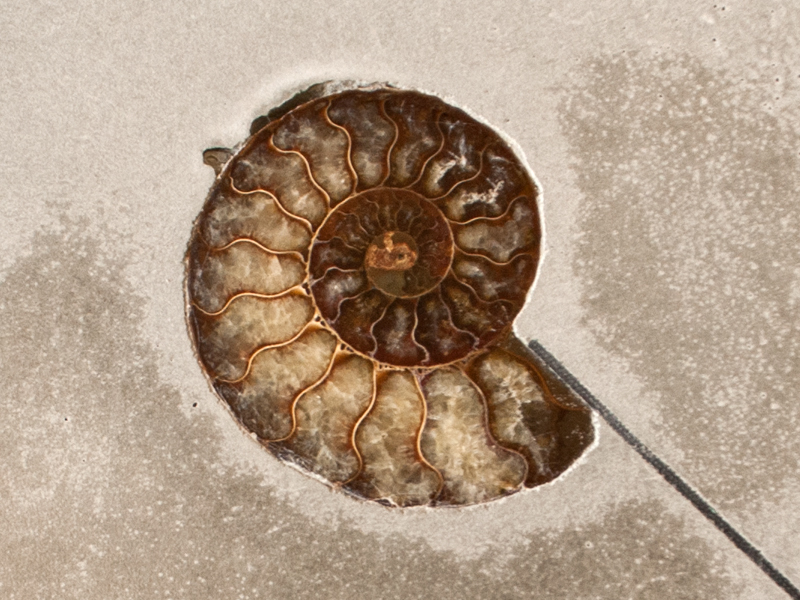 If there are voids around your ammonite after casting, don't panic. These are more common than you'd think and created when air is trapped against the fossil during the pour. The air voids are easily filled with acrylic slurry prior to polishing. We experience this more frequently when spraying GFRC from what we call "dark side of the moon" effect.  To prevent the creation of voids when spraying GFRC with inlays, be sure to spray at all angles around the inlay and use a chip brush to push the concrete solidly up against the fossil sides.
You can read more about how to use the CHENG Pro-Formula Acrylic Slurry by visiting the How-To-Slurry Guide for more information.
Step 4 – Polishing a Fossil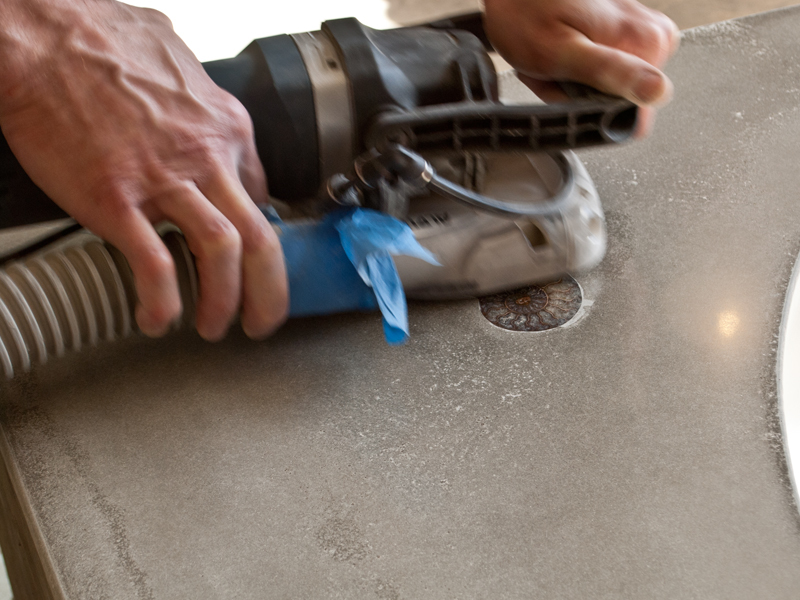 After the slurry has dried you can continue to polishing the Ammonite, or proceed to sealing the concrete, if you're happy with the results at this point.
Another reasons we like using Ammonites in our concrete is regardless of how deep we polish the ammonite it continues to look great.
The abrasives used for polishing concrete will also polish glass, minerals, and fossils like an ammonite.
Check out the Polishing Concrete Guide for more information.