Park Avenue Bench and Planter
ONE: FORM LONG PLANTER
The narrow planter box mold is constructed from 3/4″ melamine with 3/4″ MDO as structure to prevent "bowing" of the walls.
What You'll Need
3/4″ Melamine
3/4″ Plywood
Drywall Screws
Insulating Foam
Step 1 – Long Planter Form
The long planter form is built from 3/4″ melamine coated particle board.
Blue insulating foam is used to create the 'step-down' around the top edge and also to create the void to hold soil and a plant.
Because of the fluid pressure of the concrete during casting, the outside of the box is reinforced with 3/4″ plywood to prevent the walls from bowing out during casting.
After the form is assembled, it's ready to be sealed.
Because the box is so deep, it might help to remove one of the walls to make caulking the form easier.
Refer to the Corner and Seam Shaping Tools Guide for more details on creating perfect seams.
Step 3 – Install the Knockout
After the form is fully assembled, sealed, and with the top cap in place, the foam knockout can be installed.
It helps to secure one layer of foam to the bottom of the form first, and then to stick the remaining foam down in place with spray adhesive.
Small nails will keep the foam from moving around while it's being glued in place.
The foam knockout can be covered with clear packing tape or left raw. The packing tape will give the concrete a glossy surface and will make removing the foam easier.
Next: Forming Cube Planter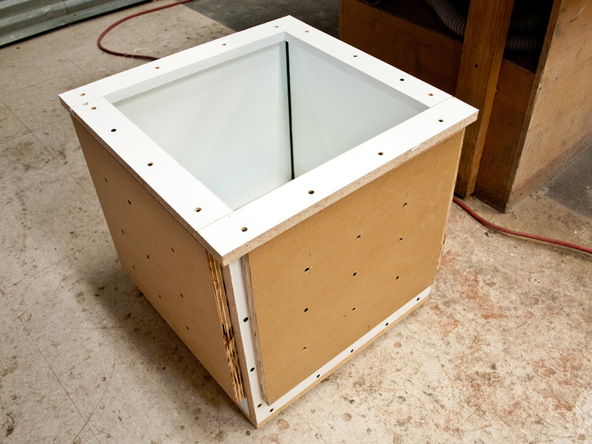 The completed planter forms can be reused for many castings. Simply take care of the molds between castings by cleaning and waxing them.