Concrete Countertops Made Simple by
Fu-Tung Cheng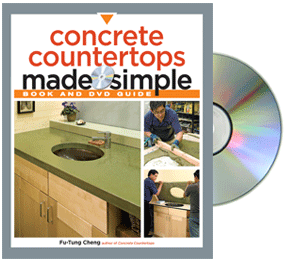 Buy Now
For the price of off-the-shelf materials you can have a one-of-a-kind concrete countertop. Watch the DVD and see designer and concrete countertop expert Fu-Tung Cheng show you how to build it yourself—from making the template to final finishing. Follow along in the companion book with photos and instructions for every step in the process.
With his first best-selling book, Concrete Countertops, designer Fu-Tung Cheng brought homeowners and contractors an affordable, attractive alternative to expensive granite, marble, and man-made countertops. Now, he takes his concrete revolution one step further with this DVD/Book set. In seven simple steps, Cheng takes the reader through the process of designing, forming, pouring, finishing, and installing a concrete countertop that will look great and survive the test of time. Explaining the process like a chef guiding you through a recipe, Cheng shows that even an amateur with the simplest tools can produce fantastic results the very first time.
Contents
INTRODUCTION: WHY USE CONCRETE?

Pros and Cons
What is Concrete?
The Tools You'll Need

MAKING A TEMPLATE

The Basics of Template Making
Visual Substance
Where Your Countertop Begins
All About Knockouts
Creating Your Own Homemade Pour Table

MAKING THE MOLD

Start With a Drawing
Cutting and Assembling
Rounding and Sealing Edges
Consider Making an Instant Foam Mold
Making Your Countertop Even Stronger

MIXING AND POURING

Understanding the Basic Mix
Admixtures
It Starts to Take Shape
Screeding and Smoothing the Wet Concrete
Tying Up Lose Ends
Curing

OUT OF THE MOLD

Removing the Sides of the Mold
Removing the Faucet Knockouts
Turning the Mold Over
Now Leave it Alone

POLISH AND SLURRY

Making it Shine
Adding the Slurry
The Re-Polish

SEALING

Applying the Sealer
Applying the Wax

INSTALLING

How to Move it
Beefing Up a Cabinet
Dry-Fitting the Countertop
Getting Ready For the Sink

FAQS

Maintaining Your Countertop: Some Guidelines
Editorial Reviews
From Library Journal
Trendy and new, concrete countertops are growing in popularity for their versatility and durability. Cheng, one of the early innovators of concrete countertops, covers only one project but in enough depth and detail to allow confident DIYers to tackle other such projects. Aimed at beginners needing a lot of hand-holding, his instruction is understandable and clear. In contrast, Skinner's book is rather shy on instruction. It is primarily pictorial but runs through six different projects. Incorporating three projects and not novice-friendly, Rhodes's more advanced book, featuring authoritative instruction, has a magnificent gallery of examples.
–Karen Ellis
Customer Reviews
Amazon Customer Review
This was just what I was looking for. I am building a outdoor setup for my Big Green Egg and wanted to include a concrete counter top. This is just the info I needed to get me on the right track! The book arrived quickly and was in the exact condition as described.
–Kris F.
Amazon Customer Review
Excellent, I love this book, great instructional material in this book. I have already started my own vanity top for a bathroom remodel project and I am planning to build a dining room table all based on the knowledge gained from the information contained in Mr. Cheng's well written and illustrated book. Highly recommended if you would like to take this up as a craft, hobby, or are thinking about remodeling and want to do some of the creative things yourself.
–Corey.
Amazon Customer Review
I found this book to be a very straight forward approach for a novice intending to building concrete countertops. Each chapter is neatly arranged, and includes a list of must have items (both tools and consumables). There is just enough detail to make the book useful, without being overwhelming. It is a little light on detailed design discussions, but that is really part of the reason it is not overwhelming. For a more in-depth read on designing great countertops, try the author's other book "Concrete Countertops: Design, Form, and Finishes for the New Kitchen and Bath" In short, I would highly recommended this book to any novice/hobbiest setting out to build a concrete countertop. I would not recommend this book if your intent is strictly to design a great countertop, or if you are an experienced concrete countertop builder looking for advanced techniques.
–Reinman
Amazon Customer Review
Great how-to book & video for making concrete counters. The step-by-step book & video take all the guess work out of creating beautiful counters. The author is both meticulous and detail oriented. This book is very basic, so I would recommend it for beginners. Some of his other books get into more intricate designs but if you're making your first countertop creation, this book is a must have.
–Melinda M.
About the Author
Fu-Tung Cheng is known internationally for his sophisticated and innovative concrete designs for the home market. He heads the Berkeley-based Cheng Design, a firm that also produces prized kitchen ventilation units and GeocreteTM, a boutique line of sculptural concrete countertops. Cheng was the author of Concrete Countertops, the book that launched the concrete countertop revolution.