Concrete at Home by
Fu-Tung Cheng with Eric Olsen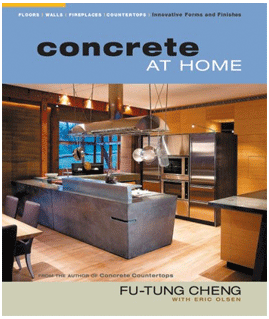 Buy Now
Step inside and get inspired as designer Fu-Tung Cheng leads you on a tour of the most beautiful concrete design possibilities in Concrete At Home. In this stunning book, the master designer and best-selling author of Concrete Countertops reveals the full innovative design potential of this common and ancient material in a surprising variety of gorgeous example.
Clear and comprehensive text accompanies rich photographic illustrations of key fabrication techniques used by the author as he creates a series of beautiful architectural elements that include floors, walls, columns, fireplaces, and countertops.
The book provides the fundamental information you'll need to understand concrete mix design, form creation, pouring, curing, finishing and troubleshooting. you'll also take away key design, composition, texture, and color techniques that will give you the self-assurance you need to design your own concrete architectural components or the confidence to oversee their creation.
Concrete At Home treats you to stunning and elegant examples of concrete design throughout the home, from kitchen and bath, to the living room, bedroom, and even out into the landscape.
Contents
FLOORS AND COUNTERTOPS

The Fundamentals of Floor Design
Floor Essentials: Preparation, Execution, and Pouring
Floor Transformations: Inlays, Linework, Stamps, and Finishes
New Countertops: Classes, Products, Tools, and Techniques

WALLS

The Fundamentals of Wall Design: Character, Form, and Expression
Wall Essentials: Fittings, Forms, Ties, and Techniques
Beyond the Basic Wall: The Ultimate Kitchen

FIREPLACES, COLUMNS, AND ARCHITECTURAL PIECES

Hearthscapes: Mantelpieces, and Fireplace Surrounds
Architectural Elements: Water Pieces, Columns, and More
Editorial Reviews
From Publishers Weekly
Cheng (Concrete Countertops) brings his skill and creativity to the rest of the house, exploring the design and building of floors, walls, patios and fireplaces as well as kitchen counters and sinks—all using concrete. Not one to stick to basics, he offers suggestions for conceptualizing and integrating artful elements—columns, fountains, inlays—into nearly every room.
Copious close-up photographs show Cheng and his team at work as they frame, pour, shape and finish concrete-centric projects for various clients. The books breaks down projects into manageable pieces, while detailed instructions and diagrams lead readers from idea through preparation to execution. Finishing touches and whimsical elements are important, and this detailed manual "contains a healthy respect for the discipline of the basics plus a twist of attitude from the artist."
Readers possessing both skill and moxie will do best with this volume; since timing, measurements and other considerations are so important when working with concrete, the best approach would surely involve a thorough reading—or two—before deciding which one to undertake. And with a bit of thought and creativity, a wide variety of found objects (bits of coral, even a bowling trophy) can add personality to a piece. Cheng manages to infuse a DIY book on a nontraditional subject with personality, and his dry humor and offbeat approach to home design come through nicely.
About the Author
Fu-Tung Cheng is known internationally for his sophisticated and innovative concrete designs for the home market. He heads the Berkeley-based Cheng Design, a firm that also produces prized kitchen ventilation units and GeocreteTM, a boutique line of sculptural concrete countertops. Cheng was the author of Concrete Countertops, the book that launched the concrete countertop revolution.
Eric Olsen is a journalist. He has published hundreds of magazine articles, a few short stories, and six nonfiction books. Olsen directed the International Institute of Modern Letters, a literary think-tank that helped writers who were victims of censorship, and created the first American City of Asylum, in Las Vegas. He was also the executive editor at Time Inc. Health, a Time Warner company. He is a graduate of the Iowa Writer's Workshop. He lives in Las Vegas.