About
Liquid rock is a small concrete business that produces decorative concrete. It is owned and created by Deron Lopez, business man, worker, husband and father of three kids. Deron Lopez started Liquid Rock 5 years ago as an added business to his first business Breeze Carpet. Breeze Carpet is a floor care business where Deron and his small team of men clean and restore all types of floor.
We "Create beautiful skillful solutions while maintaining as little impact on our earth as possible by reducing waste, reusing materials and recycling anything and everything as possible."
The main product for Liquid Rock is turning concrete into countertops. Countertops for kitchens, outdoor spaces, laundry rooms, fireplaces and anywhere you dream to have one. Each countertop can be customized to any specifications. It can have any kind of pattern, color, cutouts, decorative inlays, and to fit any size counter. Liquid Rock can also make customized pots for flowers and plants, tables and furniture. As for services, Deron and his team can come into your home and make your old concrete into something new and beautiful. He can polish it to make it look bright, shiny and new. Deron can also do overlays and pour decorative custom concrete on top of the old one. The last services would be to have the concrete epoxied to make the old concrete texturized and have line work to look like tile or any kind of style.
Since Deron likes to build the relationship, he does not set a list price for his work. Some of the work can be from a dollar a square foot to around a hundred, but with all the add ons and customization the price can be varied to meet the requirements.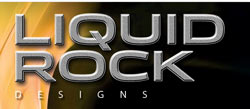 Contact
 11214 Balboa Blvd, Granada Hills, CA 91344
 (818) 307-7308
 liquidrockdesign@yahoo.com
---
Areas Served
 Los Angeles County, CA
 Ventura County, CA
---
Concrete Specialties
 Acid-Etch Staining
 Colored Concrete
 Countertops & Elements
 Interior Concrete Floor
 Concrete Polishing
Concrete Resurfacing
Stamped Concrete
---
Awards & Accomplishments
 Advanced Countertop Design – CHENG Concrete
 Certified Installer – Ameripolish
 Certified Installer – Elitecrete Concrete Systems
 Certified Installer – Concrete Polishing Solutions
 GFRC Training – CHENG Concrete Exchange
 Professional Concrete Countertops – CHENG Concrete