About
We are an Evanston, Illinois based company that makes custom concrete countertops, vanities, sinks, fireplace surrounds and furniture throughout the North Shore and Chicago.
Poured concrete countertops are an eco-friendly alternative to synthetic products and non-renewable quarried stones such as granite or marble.
Concrete lets the homeowners express themselves by incorporating color and unique features into their countertops, sinks, tub surrounds and furniture. Available in 16 colors with options such as ground tops with exposed semi-precious stones, edges or highlights, built in drain boards, sinks, trivets, chopping blocks, bowls and custom inlays. The creative possibilities for concrete are endless.
Andrew Kerr is the owner of Kerr Concrete Designs. He is also a residential general contractor, and owner of Kerr Home Services. Andrew founded Kerr Concrete Designs in 2006. He first experimented with decorative concrete in his own house in 2005, and fell in love with the medium.
Andrew belongs to the Concrete Network, has been trained by The Concrete Countertop Institute as well as world-renowned designer and decorative concrete pioneer Fu Tung Cheng of Cheng Design.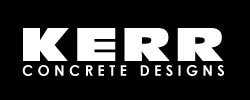 Contact
1205b Hartrey Ave,Evanston, Illinois 60202
 847-644-6131
andrew@kerrconcrete.com
www.kerrconcrete.com
Chicago Contractor License: TGC021065
Evanston Contractor License: 09LICR-0182
---
Areas Served
 Evanston, IL
 Chicago, IL
 Wilmette, IL
 Winnekta, IL
 Highland Park, IL
---
Concrete Specialties
Precast Concrete Countertops
 Concrete Fireplace Surrounds
 Custom Concrete Furniture
Concrete Planters
 Outdoor Kitchen Barbeques
---
Awards and Accomplishments
2010 Best Sculpture – CHENG Concrete Exchange
 GFRC Countertop and Sink Training – CHENG Concrete Exchange
 GFRC Training – Concrete Countertop Institute