In the Mix Concrete Design
About
Ken Collins founded In the Mix Concrete Design following 15 years in the concrete industry both as a designer and general contractor. He first experimented with decorative concrete in his own home in Ireland over 10 years ago, falling in love with the medium and finally taking his work abroad.  Ken has worked in Dublin, London, New York and San Francisco on many high profile projects including the Freedom Tower and the London Olympic Stadium in 2012.
Ken and his team aim to be the best and provide the very best service to their growing list of clients.
In the Mix Concrete Design uses the full range of products from Concrete Exchange and  SureCrete Design Products, so the possibilities are only limited by your imagination.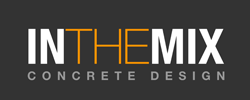 Contact
1015 Lincoln Way, San Francisco, CA 94122
 929-245-6615
 inthemixconcretedesign@gmail.com
inthemixconcrete.com
License: C8 #998654
---
Areas Served
 San Francisco, CA
Berkeley, CA
Oakland, CA
Marin, CA
San Mateo, CA
---
Concrete Specialties
 Concrete Countertops
Concrete Sinks
Walls
Flooring Overlays and Epoxy
Custom Concrete Furniture
---
Awards & Accomplishments
Comprehensive Countertop Training – CHENG Concrete
SureCrete Overlay Training – CHENG Concrete
 Building Energy Rating (BER) Assessor