Recycled Glass Countertops
SEVEN: SEALING
To achieve the boldest color possible, we are going to seal this recycled glass countertop section with a high-gloss color-enhancing sealer. We'll apply two coats of Surecrete PC12 Sealer, which will provide adequate protection and performance.
If this were a kitchen or bath project, we'd likely sand and seal an additional two coats to create a higher quality finish.
What You'll Need
6″ Foam Roller Cover
6″ Paint Roller
Graduated Mixing Container – Quart
Stir Stick
Rubber Gloves
Orbital Sander
320-Grit Sandpaper
Particle Mask
Quart-sized graduated mixing container
Stir stick
Step 2 – Mix and Stir Sealer
For the first coat, you will need 6 ounces of sealer.
Mix 4.5 ounces of Part A with 1.5 ounce of Part B (3:1 ratio).
Stir the sealer for 3 minutes.
Pour a liberal amount of sealer on the countertop.
Spread the sealer with a high density foam roller, working the sealer into the surface and covering the entire countertop in a uniform layer.
Using the roller, push excess sealer off the edges.
For an even finish, backroll the sealer with minimal pressure to knock down air bubbles.
Using the roller vertically, apply sealer to all four edges.
Let the first coat of sealer cure for 24 hours before sanding and applying the second coat.
After curing, lightly roughen the surface with 320 grit sand paper.
Using an orbital sander makes this go quickly, but be careful not to sand too much – just enough to flatten any high spots and create a rough texture for the second coat to bond to.
Sand as evenly as possible, including the 3/4″ edges.
Wipe the countertop down with a lint-free cloth.
Step 10 – Apply Second Coat of Sealer
After sanding and wiping, apply the second coat of sealer following the same steps as the first coat.

   Mix 6 oz. of sealer using 4.5 oz. of Part A and 1.5 oz. of Part B (3:1 ratio).
   Stir the sealer for 3 minutes.
   Apply the sealer to the entire top and edges with the roller.
   Backroll the sealer to smooth out the finish coat.
Step 11 – Cure and Final Polish
After 24 hours, the second coat of sealer is ready for light-duty service.
The sealer takes 48 hours to fully cure.
If any impurities or debris are present in the final coat, they can be sanded down and the sealer can be progressively polished up to a 2000 grit wet-sand.
Previous: Polishing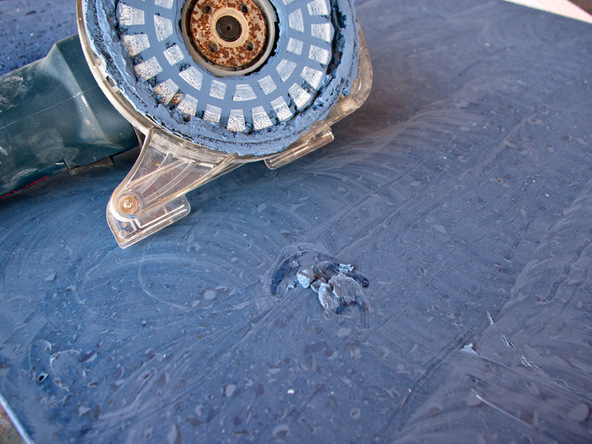 For this project we chose to use a single head wet/dry polisher, but if this project were any bigger, we'd have used a triple-head planetary polisher.